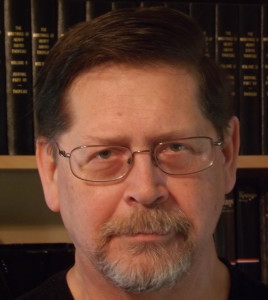 I'm a former software architect for CA Technologies where I worked on a range of IT management projects for close to twenty years. I worked in software development for much longer. My first exposure to computing was as an undergraduate math major at the University of Chicago where I wrote FORTRAN on punch cards for an IBM 7094. That should date me.
Later, I switched majors. I graduated from UChicago with a bachelor's in social science and a master's in humanities. I was admitted to PhD candidacy and wrote most of a thesis on early classical China at Chicago before I discovered that I preferred the excitement and opportunity of my computer sideline and got a degree in computer science from Western Washington University in my home town of Bellingham, Washington.
The standards side of computing has always interested me and I have sat on a number of standards working groups. Cloud Standards was my first book, although I think I have written more than the average engineer over the years.
Libraries
Since I retired, I have begun to pursue another passion: libraries. In October 2013 I was appointed to the board of trustees of the Whatcom County Library System. Libraries are essential institutions in a democracy like ours. Knowledge and culture must be available to everyone and reading is the key that unlocks it all. Libraries are one place where CEOs, fry cooks, professors, and construction workers stand as equals.
But I am afraid that libraries are under stress today. Too many people view them as anachronisms made irrelevant by eBooks and the Internet; some believe public libraries are luxuries we can do without. I disagree. Technology is transforming the way we exchange information and libraries must change also, but the public library's traditional role remains crucial. Technology demands trained workers who are continually renewing their knowledge, not only of technology but also their knowledge of the fundamental wisdom that derives from the humanities. Paper books will be with us for years to come, but new forms like eBooks, audiobooks and videos continue to become more important to library users. Libraries are challenged to support both traditional services and accommodate emerging needs, while using the resources provided by our taxpayers prudently.
I used to say that managing software development was like juggling flaming alligators. What do you know? Libraries are the same.
Home
I am fortunate to work from home, which happens to be an old farmhouse on the farm my family homesteaded in my great-grandfather's day. I am helped by my wife Rebecca,  a daughter, twin grandsons, and a son and daughter-in-law with a very young grandson. A rambunctious and bossy border collie keeps me in line if I think about shirking our daily walks.
Statement
This is Marvin Waschke's site, and I represent only myself here. After years of representing various employers on the subjects I address in this site, I feel quite liberated. I have written two books for CA Press and I finished a third book for Apress Springer. My experiences with my former employers have influenced my understanding of IT and I think very highly of my former associates, but I am no longer tied to them. I am a DMTF Fellow and member of several DMTF working groups. I am also Chairman of the Board of Trustees of the Whatcom County Library System. However, I do not represent the DMTF or any of the groups I am a member of. The internal discussions of these groups are confidential. Do not look for information here that is not publicly available.
A Note On the Banner Photographs
The photos are my own. I am attracted to brightly colored objects and occasionally photograph them. These banners are artifacts of an excursion with my grandsons to Woodland Park Zoo in Seattle, Washington. I didn't take notes on species, but I think most of them are birds.